Posted by
Apr 17, 2012
|
1 comment
on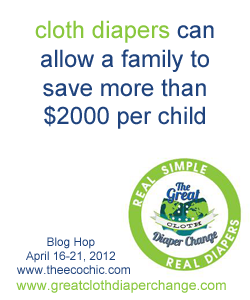 When I talk about being a cloth diaper circle leader and teaching 101 workshops to friends with older children in diapers or disposable training pants, I often hear something like "Well it's too late for us now, maybe if I have another kid…" It's for those parents that I wanted to crunch some numbers for and let you know how you can still save quite a bit of money.
I started with the cost of one of the most popular pocket diapers on the market, BumGenius, and went from there. You can buy one pocket diaper for $17. (If this turns you off right away, make sure to note that many retailers offer great sales. Some give discounts for buying more than 3 and many retailers offer larger price breaks if you buy in bundles.) I priced out a 186 count box of disposables (on sale) for $45 which averages out to about .25 cents per disposable diaper. Using those numbers, each cloth diaper you buy will be equal to the cost of 68 disposable diapers. So even if you only have a few months in diapers left, buying just one cloth diaper will save you about $5.50 if you use it every day and wash it every night. If you buy just 5 cloth diapers and use all 5 every day and wash them daily, you will save $27.50 in just 3 months. If your little one has just 6 months left in cloth and you buy 5 cloth diapers (enough to cloth diaper part time) you will save a whopping $140! If you buy a full (toddler) stash of 12 pocket diapers for $17 each, wash every day and a half, and use only those cloth diapers, you will save $336 over 6 months!!!!
Have I just blown your mind? Because even though I KNOW there is a lot of money to be saved in cloth diapers, those numbers still look pretty awesome to me! Oh, wait, I forgot about resell value. Make sure to tack on the fact that if you only use your diapers for 6 months (and don't completely terrorize them by disregarding all washing instructions) your diapers will be in excellent condition. You can resell them online through many sites, through a consignment store, or save money on a baby shower gift by gifting them to another mom who will surely underestimate the money saving power of the gift you handed down to her.
"Janice," you say, "my kid is in disposable training pants and cloth diapers are no longer an option for us, how can I save money?" The lease expensive disposable trainer I found was $36 for 100. A high quality cloth trainer (that absorbs similar to disposable trainer) will cost anywhere from $19 – $35. But you have to know what you get for that price. The $19 trainer is a GroVia trainer (see the link in my side bar). If it gets soiled you need to change and wash it just like you would change a disposable trainer. I think this trainer is a great night time option. The $35 trainer is a Flip trainer. It comes with one cover (that is wipeable and reusable if it gets soiled with urine) and 5 inserts to absorb 5 accidents. If you get one Flip trainer and two GroVia trainers (for nap and night time) it will cost you $73. If you buy anything over two (100 count) disposable trainers you have made your money back. Cloth trainers also take the pressure off of potty learning. I'm not worried about when my kids finally gain control of their bladder while sleeping because I don't have to buy any more training pants!
If your child is only in disposable training pants for night time and you buy 2 GroVia trainers and wash every other day, you will make your money back on anything over the cost of one box of disposable trainers. Your child will train faster because they will feel the wetness of their accidents without the mess. Can you say win, win? How much you save will depend on how much potty learning your child has left to do!
Cost savings is hardly the only reason to use cloth diapers and trainers but the purpose of this post is to let you know that it is hardly ever too late to save money by switching to cloth. If you wait until your child only has 3 months in diapers, you can still save $65 by switching exclusively to cloth (12, $17 cloth diapers). That means you are still saving money – even when factoring in the fact that you need to wash them and should buy cloth diaper safe detergent. My advice? Make the switch now! The sooner you switch, the more money you will save!



(This is a repost from 3/16/12)