Posted by
Feb 1, 2013
|
0 comments
on
Ah, yes. The craziness has begun. I have signed up to host Ventura County's Great Cloth Diaper Change 2013. Not that there aren't enough things for me to do. (I can almost see my mom shaking her head at me now hearing her phantom words say something to the effect of "You do too much daughter!") Yes. I am doing too much, but who isn't? Isn't it almost an obligation to push our limits? Shouldn't we test ourselves to see what we are capable of accomplishing?
So, for the next few months, I will be a crazy lady running around like a chicken with my head cut off. I will attempt to help plan my sister in laws bridal shower, plan a birthday party for my kids and host another Great Cloth Diaper Change. Whew. At least I know I have help this year! Our community has really been gathering momentum lately and many Real Diaper Circle members are excited to help plan this years GCDC. We've met up with our local babywearing community in January and had our largest Real Diaper Circle meeting to date. My 101 classes have expanded from once a month to an additional quarterly class hosted at Community Memorial Hospital in Ventura, CA. Check out their community forum HERE and download the calendar!
Last year our local Great Cloth Diaper Change event had 43 qualifying participants and we hope to have at least 100 this year! Our local Buy/Sell/Trade Cloth Diaper Facebook group has nearly 275 members! What an event we could have!
If you are interested in hosting a Great Cloth Diaper Change event in your area, please visit GreatClothDiaperChange.com to learn more! Last year 8,251 babies were changed into a cloth diapers simultaneously across the globe at 189 locations in 4 continents.  Help bring this event to your town! Anyone can host!
Posted by
Apr 21, 2012
|
1 comment
on
What an amazing event! Things went very well for our location. We had a community that came together with so many donations that EVERYONE that participated won a prize on top of getting a swag bag. (I even have a few swag bags left over for circle members that didn't attend GCDC and show up to circle meetings!) I'm exhausted both physically and mentally so this will be more of a photo montage than my usual posts. I think you will enjoy it none the less!
I can't thank everyone involved in today's event enough. I really can't. The participants were troopers! Even waiting around for all the prizes to be drawn was a feat since the community was so generous! Keep in touch & join the Cloth Diaper Circle for Ventura County whenever you can!

Posted by
Mar 31, 2012
|
3 comments
on
We have been working our tails off to make this event awesome! It is paying off friends! I wanted to give you an update as to what our Ventura County Great Cloth Diaper Change is looking like! I have been overwhelmed with all of the support and donations we have gotten from the local community! The Great Cloth Diaper Change is nearing and I want to make sure all of you who want to participate can! If you don't currently use cloth diapers and you would like to participate, email me and I will reserve a cloth diaper for you to use at our event.
The first 50 participants to arrive will get a swag bag full of goodies! If we get more than 50 pre-registrations we will work as hard as we can to get more swag bags made for the event. In order for us to supply you all with swag goodies, it is important for you to preregister. That however, is not the only incentive to preregister! The Ventura County Great Cloth Diaper Change will be having some pretty awesome giveaways for participants. Every participant will be given a certain number of "raffle" tickets so that they may choose the prizes they most want to win. All preregistered participants will receive an extra ticket to increase their chances of winning! So preregister HERE now to help make sure everyone gets some great free stuff!
Prizes include:
A Lactating Mother's basket full of wonderful supplies from Lassen's
A basket of baby care supplies like lotion and shampoo from Lassen's
Coconut oil (great for diaper rash cream) from Trader Joe's
A baby carrier cover from Baby Bella Maya
A $25 Gift Certificate & 2 beanie baby bears from Kids Club in the Jann's Shopping Center
Burn balm (great for healing ammonia burns) from Blue Jasmine Acupuncture and Herbs
Diaper Balm and Hand Sanitizer from The Balm
Detergent from Eco Sprouts
Detergent from Eco Nuts
A large wet bag from Incredibum
A Fuzzi Bunz Elite Cloth is Cool Diaper from Sandbox Lane
A Boba baby carrier and baby wearing evaluation from HipMommy
A Boba pack from Boba
A doTERRA trio kit of essential oils from Jenna & Damian Fante
A cloth diaper from Ana of Lollipop Baby
The book, Changing Diapers: The Hip Mom's Guide To Modern Cloth Diapering from MommaWords.com
And we're working on more! If you want to increase your chances of winning these prizes, preregister now! All participants will leave with some goodies!
We are still looking for some volunteers. We need a couple people to volunteer as witnesses so that we can abide by Guinness rules. Guinness witnesses may not receive anything in return for their help and may not be participating in the event. If you or anyone you know is not affiliated with this event, doesn't typically associate with me, and is willing to donate their Saturday morning, we would love to hear from you/them! Comment on this post or email me for information on sponsoring this event or donating your time to help.
If you are looking for a Great Cloth Diaper Change Event near you click HERE. As of right now, the closest locations near Ventura County are Anaheim to the south and San Louis Obispo to the north.
We have many more sponsors that have donated to the swag bags and lots of vendors that will be at our event to show you their latest and greatest items and services! We will have limited refreshments, and a FREE Kindermusik class after the change is over. Bring your unwanted cloth diapers to swap with others or donate to a needy family!
We hope to see you there!
Posted by
Mar 7, 2012
|
1 comment
on
If you "like" MommaWords on Facebook, then you have probably seen some of my posts about The Great Cloth Diaper Change. This is a great event that takes place across the world! On April 21st locations all across the globe will attempt to break last years Guinness World Record for the most cloth diapers changed simultaneously. Last year's record was set at 5,026 reusable cloth diapers changed in 5 countries! This year there are already 531 initial applications to host a location and 208 official hosts in 11 countries! If you use cloth diapers on your child/children go to TheGreatClothDiaperChange.com to find a location close to you! New locations are being added everyday as applicants finalize their location status. If you are in Ventura County please join me at the location I am co-hosting in Camarillo, CA! Visit VenturaCountyGCDC.blogspot.com to get details about our location and pre-register now! Pre-registering really helps locations everywhere prepare for how many participants to expect. Our location will be giving swag bags full of great goodies to participants, however, your real incentive to join us is to meet other cloth diapering parents in your area, raise money for the Real Diaper Association (a non-profit organization), and help spread the word about the benefits of reusable cloth diapers to others!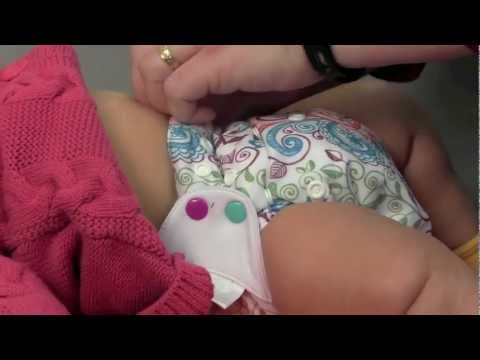 Our Camarillo location is looking for people to participate as staff (those who aren't changing a baby at the event) to help keep things organized and register participants. We are also accepting sponsors from local businesses through donations and table rentals at the event. If you have a local "green" business that would like to advertise at our event, fill out our sponsor form at VenturaCountyGCDC.blogspot.com. Every last bit of help makes a big difference.
We are asking our participants to be at our Camarillo location at 8:30 AM on Saturday April 21st to register. We will giveaway cloth diapering related prizes while we get ready to set a world record! After the "official change" we will have a diaper swap, so bring any diapers you would like to sell/trade. We are also planning some other fun small events. Check back with the Ventura County location website for more details as they come! Thank you for all your support friends!
Please share this post or The Great Cloth Diaper Change video to help spread the word! If you would like the html to put a GCDC button on your blog or website, get me your email (by leaving a comment below or emailing me)  and I will send it to you!
Posted by
Dec 7, 2011
|
0 comments
on
The last few nights have been exceptionally cold for us Southern Californians who don't really know what "cold" means. we haven't had any snow flurries but layers have been in high demand. (I know we are very spoiled.) My "frozen" sheets made me remember that when I went to the grand opening of my cousin's boutique, I had purchased a cherry pit heat pack/pillow. The artist selling them told me that she uses hers to warm her bed at night. While the cherry pack was pricy (see this post on the true cost of handmade) I felt good about buying it because I was not only supporting a crafty artist, but my cousin's store, Downtown Sol, as well. Anyways, I popped the cherry pit pack in the microwave for a few minutes and then put it in my bed while I got ready to go to sleep. When I got into bed, I was in heaven! Not only was my bed all snuggly warm, but a fluff of the sheets produced a warm cherry pie smell. Am I totally crazy to hope that this warm cherry pie smell will overpower any possibility of my husband to make a dutch oven out of our bed? You know what I'm talking about.
In other, non dutch oven news, I wanted to give you readers a heads up on a few MommaWords related news stories. I mentioned my cousin's boutique above called Downtown Sol. My cousin and his wife (who's dream it was to open the store) have been gracious enough to let me host my Cloth Diaper Workshop in the upstairs studio of their store! If you haven't noticed the page I added, go to the very top of the page and click on Cloth Diaper Circle for Ventura County for details!
MommaWords is now an Award Winning Blog! Yay! E College Finder has awarded the top parenting blog award to blogs they think are a great resource for their students that are parents as well!
My last bit of news is related to The Great Cloth Diaper Change 2012! The RDA is currently taking applications for GCDC hosts. I'm teaming up with Linda over at Sandbox Lane to host a Ventura County location. If you are a cloth diapering parent or own a related business consider hosting a location in your area! All cloth diapering parents should mark the morning of April 21st, 2012 on their calendar! The record for 2011 was 5,026 cloth diapers changed simultaneously across the world! Help us break this record and sign up to attend a location near you!